Sustainability Policy
Hoist Finance's sustainability policy defines our approach to, and governance of, sustainability. The purpose of the policy is to serve as a governing policy for all business decisions in all Hoist Finance markets and constitute the foundation to build trust and commitment with all our stakeholders:
That we always do our best to show respect for the integrity of our customers and partners.
That our colleagues are supported via a healthy and safe working environment.
That we respect the environment through initiatives to minimize our environmental footprint.
That our culture is focused on good ethics and doing the right things, with support from a robust internal governance and policy framework, as well as adherence to external laws and regulations.
Hoist Finance's work on human rights is integrated into all policies that govern sustainability efforts. The ethical guidelines expressed in the sustainability policy provides the foundation for how human rights are to be observed. The diversity policy, personal data policy and the anti-corruption policy provide details in more specific areas. By emphasizing Hoist Finance's views on human rights, the company can reduce the risk that violations occur.
Governance Model
Sustainability Governance
at Hoist Finance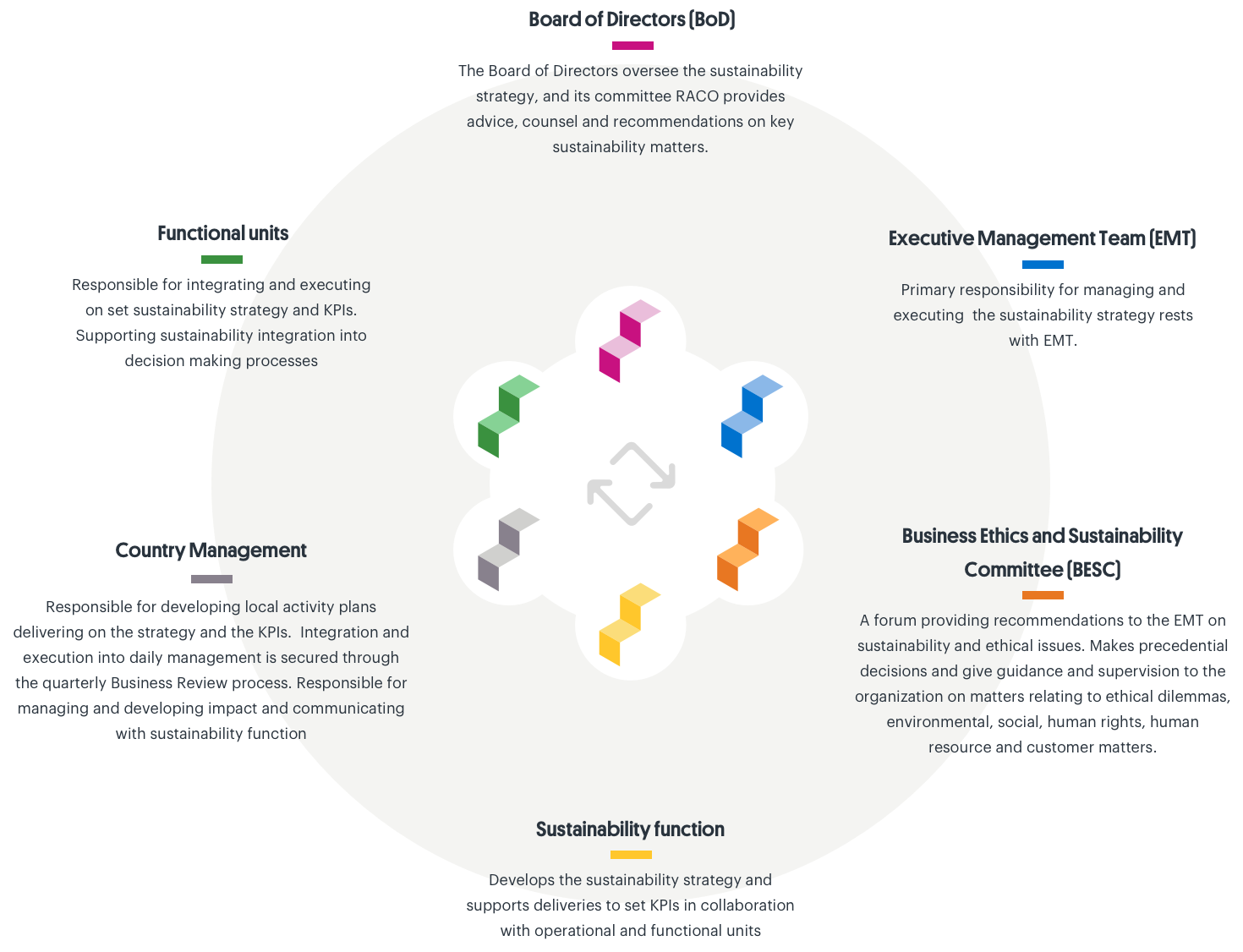 The highest governing body of the sustainability work is the Hoist Finance Board of Directors whom are updated with our sustainability work and progress at least annually. The Executive Management Team is the appointed owner and responsible for managing and ensuring the execution and delivery of the sustainability targets and strategy. The Business Ethics and Sustainability Committee provides recommendations to the Executive Management Team on sustainability and ethical related matters. The Committee makes precedential decisions and gives guidance and supervision to the organisation on matters relating to ethical dilemmas, environmental, social and human rights, human resource and customer matters.
Hoist Finance Head of Sustainability is responsible for developing and supporting the implementation of the sustainability strategy in collaboration with operational and functional units.
Country management and Group functional units are responsible for developing strategies and activity plans that correspond to the sustainability goals and targets ensuring integration and execution into daily management.
Contribution to sustainability targets are followed up on a quarterly basis and integrated in the business review process.
Human Rights
We are committed to the respect and promotion of human rights with regards to our colleagues, customers, shareholders, suppliers and communities. This includes robust processes to ensure customer integrity is respected at all times, continuous activities to prevent discrimination and practices that infringe on the individual's dignity, taking measures to abolish risks of forced labour and child exploitation, to respect the freedom of association and help eradicate all forms of corruption.
Anti-corruption and Compliance
We have an extensive anti-corruption programme where we have adopted guidelines specifying how the company and our employees are to conduct business in a responsible and ethical manner. Policies and regular training on the ethical guidelines are examples of measures taken to combat all forms of corruption. Other measures include recurring internal surveys, in respect of compliance and internal control. The company's anti-corruption work is instrumental in keeping corruption risk at an absolute minimum.
Since 2017, the Compliance function has been conducting a more extensive survey, regarding the risk of corruption in all business units. The survey's primary goal is to identify strengths and weaknesses in the area. Survey results for the past two years show that managers have a healthy understanding of what corruption comprises and the majority are very familiar with the internal rules and are well-trained on the subject. The survey also shows that work should continue with the anti-corruption framework, in order to constantly lower the risk for corruption.
Whistleblowing
We have empowered our employees to report observations of behaviour considered to be unethical or illegal. Hoist Finance has developed a whistleblowing procedure through which employees can openly or anonymously notify the company of wrongdoings in the business.
Data Privacy
Comprehensive and strict data protection laws are essential for protecting human rights; most obviously, the right to privacy, but also many related freedoms that depend on our ability to make our own choices about how and with whom we share information about ourselves. In Hoist Finance, we take protection of personal data seriously and we are committed to processing personal information in a lawful, fair, and transparent manner. By implementing robust technical and organizational measures to protect customer and employee data, by regularly educating our employees about relevant data privacy laws and by appointing Data Protection Officers in each jurisdiction where we operate, we ensure that our customer's personal data is handled in accordance with applicable regulations and laws.
Employee Protection
We continuously secure policies and processes to respect individual human rights as well as complying with labour laws in all our jurisdictions. This includes group wide policies around renumeration and equal pay for equal work, freedom of association, anti-discrimination and reasonable working conditions.
Policies Governing Hoist Finance Sustainability Work in Various Ways
Hoist Finance Corporate Policies embrace our commitment to employees, customers, society and is the foundation of our corporate behavioural directions and framework. The policy framework is a fundamental part of our strategy, and the basis for how we drive sustainability within the company. All Corporate Policies and Instructions are in nature group wide and adhere to all Hoist Finance employees. Only Corporate Policies relating to our sustainability strategy and of external relevance are listed below.
Anti-corruption policy
Anti-money laundering policy
Code of Conduct policy
Communication policy
Complaint management policy
Diversity policy
Insider dealing policy
Instructions for incident reporting
Internal governance and control policy
Investment policy
IT policy
Operational risk policy
Outsourcing policy
Personal data policy
Policy for conflicts of interest
Policy for managing NPL portfolios
Policy for new products
Remuneration policy
Risk management policy
Security policy
Sustainability policy
Tax Policy
Whistleblowing policy